The Bad Blood remix featuring Kendrick Lamar is now available on iTunes! Check out the artwork for the single cover below! You can read the lyrics for this new version of the song on our Tumblr!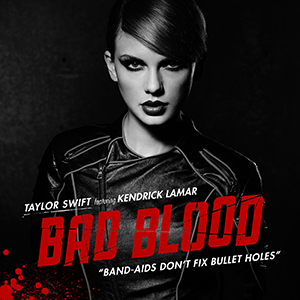 Sunday's Billboard Music Awards ceremony did not simply introduce Taylor Swift's eagerly anticipated "Bad Blood" music video.

It also brought forth a remixed version of the song.

Featuring rapping from Kendrick Lamar on both verses, the remix offers a new take on the popular album track. It also offers the millions of "1989" owners a Taylor Swift song they have not yet heard.

The remix is expected to imminently debut at pop and rhythmic radio. "Bad Blood" is also being pushed to hot adult contemporary, but it is presently unclear whether label Republic will concentrate its Hot AC effort on the rap remix or the original version.