Taylor is on the cover of the December 26th issue of The Hollywood Reporter. The cover features a brand new photo from Taylor's Billboard magazine photoshoot. Check it out in our gallery and watch a video below! The issue is available now, so make sure you pick up a copy!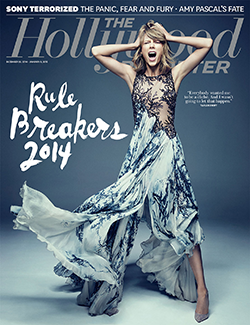 It's easy to forget that when Taylor Swift announced in August that her fifth album, 1989, would leave her country roots behind to be a purely pop project, there were a lot of skeptics — as she might say, a lot of haters ready to hate, hate, hate. But that was four months ago.

The world's biggest pop star (who has a Twitter following of more than 48 million) has broken records since, with her album selling nearly 1.3 million copies during its first week — the biggest single-week number in 12 years — at a time when record sales are in dizzying free fall. Swift, 25, also became the first female artist to have back-to-back No. 1 singles on Billboard's Hot 100 ("Shake It Off" and "Blank Space"). And her risky decision not to stream 1989 on the world's fastest-growing service, Spotify, magnified the debate over fair royalties during the digital age.