Taylor is gracing the cover of the December issue of CLEO Australia. The cover features a promotional photo from the 1989 album photoshoot and she gave an exclusive interview about her friends, feminism and 'shaking off' the haters. Read the full interview below and head over to our gallery to check out the cover!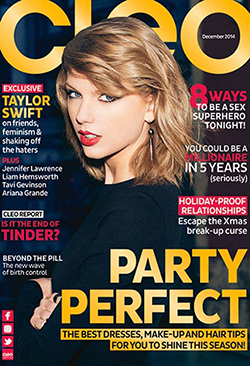 Miss Swift isn't the jilted ex-girlfriend you might think she is. No, she isn't bitter, stung or, at worst, obsessive. However, after six years of chart-topping songs about her past loves, it's warranted if you feel like you have, at times, a fraught relationship with the 24-year-old superstar.

Her new album 1989 is no different, except for shedding her country sound. What is different about Taylor now is her demeanour – she's no longer subtly (or perhaps not so subtly) calling out men, but calling out the women who, by taking each other down because of guys, disrupt the plight of feminism.

"I think when it comes to females in the media, you will see something that kind of upsets me, which is that females are pinned up against each other, more so than men," says Taylor.