Taylor is on the cover of the November issue of Bloomberg Businessweek. Head over to our gallery to check it out and read the full cover story below!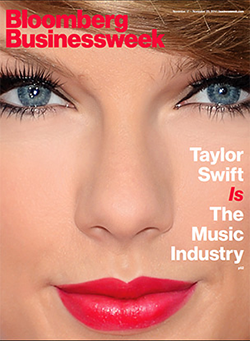 Scott Borchetta, founder of Big Machine Records, Taylor Swift's Nashville-based label, picks up a deluxe edition of 1989, the singer's current hit record. He carefully slips the white case off the special edition CD, which fans can buy exclusively at Target (TGT) for $13.99.

Inside, in addition to an actual CD, is a packet of Polaroid pictures of Swift in various states of dreamy repose. There's one of her riding the ferry in New York Harbor, another in which she's lounging wistfully in bed, and a third of her posing in a purple long-sleeved shirt, a version of which (the shirt, that is) fans can buy on her website for $60. At the bottom of each shot there's a handwritten line from one of the album's songs. Borchetta says the Polaroid gimmick, created by Swift's marketing team, led to a flurry of online love between Swift and her fans. On Oct. 27, the day of the album's release, Borchetta says Swift called to say she'd been retweeting fans' pictures of the Polaroids. "She said, 'Oh, my God! We're just having so much fun!' " Borchetta says.