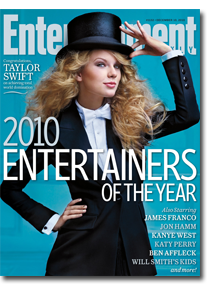 Taylor is gracing the cover of the December issue of Entertainment Weekly Magazine. Its a special edition dedicated to the 2010 Entertainers of the year and as you can see, Taylor is leading the list. Its definitely a huge honor and I can't be more happy for Taylor! Also it features a brand new photoshoot so its very exciting. Click here to see the High quality cover and below you can read a the article & Interview! The magazine will be available tomorrow so be sure to get a copy!
Taylor Swift takes the top spot on our list. From an Album of the Year Grammy to the megahit Speak Now, our Entertainer of the Year earned a career's worth of commercial and critical success—in just 12 short months.

2010 will go down in history as the year we all saw Taylor Swift differently. The 20 year-old kicked things off with a No. 2 single debut ("Today Was a Fairytale"), a hit movie (Valentine's Day), and four Grammy wins, including Album of the Year for her 2008 CD, Fearless. She spent months headlining arena concerts and big-ticket awards shows. But there was one achievement—the Oct. 25 release of her third record, Speak Now—that topped everything. Buoyed by strong reviews and the radio-friendly hit "Mine," Speak amassed a jaw-dropping 1,047,000 units in first-week sales, the highest tally for any release in five years. For all that, the confidently sweet woman who was only 2 months old when Entertainment Weekly launched in 1990 is now our youngest-ever Entertainer of the Year.

Most impressively, Swift single-handedly wrote all 14 songs on Speak Now—which makes sense considering how astonishingly personal each track is. Though she hasn't confirmed the identities of any of her subjects, she's widely believed to be singing about exes Taylor Lautner ("Back to December"), Joe Jonas ("Last Kiss"), and John Mayer ("Dear John"), as well as her MTV VMA spotlight thief Kanye West ("Innocent"), actress and romantic rival Camilla Belle ("Better Than Revenge"), and influential music blogger Bob Lefsetz ("Mean"). Over a late breakfast in Beverly Hills, Swift talked with EW about her record-setting sales and controversial lyrics—and even said a few words about Kanye West and her new boyfriend, Jake Gyllenhaal.

Entertainment Weekly:  Before Speak Now was released, were you nervous about it selling?

Taylor Swift: It was an emotional roller coaster leading up to releasing that record. I tend to live somewhere between hope and fear. I've never wavered so much in my life than I did in the weeks leading up to the record release.